Butternut squash, cauliflower, marsala red onions, and roasted garlic come together to create this delicious fall instant pot soup!
Jump to Recipe
This post contains affiliate links. That means if you click on any links, sales made through such links will reward me with a small commission – at no extra cost to you. I only promote companies or products I personally use or believe in.
---
---
Who loves butternut squash!?!? I know I do! Hopefully, all of my pumpkin goodies haven't turned you off from winter squash just yet because today I wanted to share this easy but gourmet fall soup. Your kids or picky eaters will have no idea that you've snuck cauliflower into this instant pot soup! My butternut squash and cauliflower soup are so good your family will definitely be looking for seconds. Although it will be a little bit more time consuming than most Instant pot soups I guarantee the extra steps are worth the wait!
---
Where did butternut squash and cauliflower soup come from?
A few years ago I was scouring the internet for the perfect butternut squash soup. I must have tried a whole bunch of recipes that were all on the stove or in the slow cooker but no matter the recipe I wasn't one hundred percent satisfied. Finally, I had actually taken components from a few recipes to create a truly magical soup thus stopping my search. Recently I came across Peas and Crayons blog and she had a really great recipe for Butternut Squash And Cauliflower Pressure Cooker Soup. I have only had my Instant pot since last Christmas so I am still learning a lot but I loved the idea of adding cauliflower to the butternut squash soup. So instead of doing everything all over the stove I partially used her recipe but added my own twist to this recipe which involves other techniques I've learned. With her original recipe and my adaptations, this soup is absolutely perfect!
---
What makes your butternut squash and cauliflower soup different?
One of my favorite ways to add max flavor is to roast garlic. I love to add roasted garlic to soups because I love the depth of flavor it adds. I absolutely love bacon so I thought adding some bacon fat to the soup would also add great flavor. I love the way red onion goes with butternut squash so I opted for red instead of white and cooked it in the bacon fat. Another unique addition was once the red onion was slightly caramelized I added Marsala wine and allowed the red onions to absorb the delicious marsala flavor. I love hazelnuts and I think it goes very nice with butternut squash as well so I also added some to the soup for an extra nutty flavor. The combination of all of these ingredients with the butternut squash really is amazing, it seriously tastes very gourmet without spending hours by the stove!
---
Is this recipe hard?
No, but it does require a little extra time considering the roasted garlic. I like to add the garlic at the end when I am ready to puree the soup with my immersion blender. While the garlic roasts I cook my bacon then cook my onions. Once the onions are cooked with the marsala wine and the garlic is still roasting I add the bacon fat, cooked marsala onions, butternut squash, cauliflower, broth, and spices to my Instant pot. I turn the IP on and allow my ingredients to pressurize while my garlic finishes roasting. Once the Instant pot is done I do a quick release add my remaining ingredients, leaving the bacon out as that is a garnish. Once everything is tender and all of the final ingredients are in I use my immersion blender and puree till smooth! See it isn't hard just a few more steps than set it and forget it. If you want that gourmet flavor you are going to have to do a little bit of extra work for it, but I swear it's totally worth it!
---
I don't have an instant pot, can I make butternut squash and cauliflower soup in the slow cooker?
Of course! This delish fall recipe can definitely be made in the slow cooker. Follow my instructions just like you are prepping for the instant pot. Once you get the area where I tell you to add the veggies, broth, spices, and onions to the IP add to your crock instead. Make sure you are leaving the garlic, milk, cream, hazelnut oil, and sugar out of the crockpot as these ingredients get added later. Set crock-pot to high cover and cook 5 hours on high. Once veggies are tender turn the crockpot off add remaining ingredients and blend with your immersion blender until smooth! Top with your favorite toppings and ready to serve.
---
Is this gluten-free? Can It be altered for a vegan?
This soup is GF, no flour needed to make this dreamy soup! For my vegan readers yes you can adapt it for your needs. I usually use chicken broth in my Butternut squash cauliflower soup but you can use vegetable. For the milk and cream, you can use almond or coconut milk and use silks heavy whipping cream alternative in place of cream. As far as the bacon goes I have seen vegan bacon out in the stores, if you enjoy it and would like that bacon flavor I highly recommend it. Aside from those substitutions if you have a nut allergy then skip the hazelnut oil, otherwise this recipe should be fine for most dietary needs!
---
What can I pair this with?
I usually eat this alongside bread or a slice of quiche but you can eat it alone as it is pretty filling. You can also enjoy this soup with a salad or a sandwich as well.
---
Instant Pot Butternut Squash And Cauliflower Soup
Butternut squash, cauliflower, marsala red onions, and roasted garlic come together to create this delicious fall instant pot soup!
Equipment
Instant Pot

Immersion blender or blender
Ingredients
olive oil

for garlic

1

a whole head of garlic

salt

for garlic

3

slices of bacon or more

or vegan bacon

bacon fat

half for the soup half to cook the onions

1/2

of a red onion chopped

1/8

cup

marsala wine

1

lb

cubed butternut squash

1

lb

cauliflower florets

2 1/4

cups

chicken broth

or vegetable

1

tsp

dried thyme

1

tsp

dried rosemary

salt and pepper to taste

1 1/2

tbsp

hazelnut oil

skip if allergic to nuts

1 1/2

tsp

brown sugar

3/8

cup

heavy cream

use silk heavy cream alternative if vegan

3/8

cup

2 % milk

use almond or coconut milk if vegan
Instructions
Preheat oven to 400 degrees and cut enough of the top of the head of garlic off so your cloves are exposed.

Take a large enough square of aluminum foil put your garlic in the center then generously drizzle olive oil in it and add some salt, create a tight seal so no oil leaks out and the garlic will roast perfectly inside.

Bake for 40 min, you know it is done when the cloves are slightly browned. With a knife see if you can squish the clove if so, at this point if you were to squeeze them the cloves should squirt out like toothpaste, don't squeeze yet, just set to the side until your soup is done. 

While the garlic is roasting, in a skillet cook bacon and set aside for later but reserve half of the bacon fat for the soup while keeping the other half for cooking the red onion.

Cook red onion in bacon fat until slightly caramelized add a little bit of salt then Marsala wine cook down until the onions have absorbed the marsala wine. 

In your instant pot add butternut squash, cauliflower, broth, spices marsala red onions, and reserved bacon fat to your Instant Pot. 

Make sure your seal is set to sealed and not in the vent position. Close the instant pot and cook on high pressure for 7 min. Keep in mind it will take a few mins to come to pressure then it will cook for 7 mins.

Do a quick release then add the roasted garlic cloves and remaining ingredients.

Use an immersion blender and blend until smooth, alternatively you can wait for it to cool before pureeing in a blender. Taste and adjust if needed. Garnish with your choice of toppings maybe some roasted pumpkin seeds, fresh rosemary, fresh thyme, and/or bacon you set aside earlier.
Notes
For the slow cooker follow steps 1 through 5 then for step 6 add those ingredients to your slow cooker instead of an IP, make sure it is not lined with a slow cooker liner. Cook on high for 5 hours until veggies are tender follow the very last step.
Store soup in an airtight container for up to 5 days in the refrigerator or 3 months in the freezer.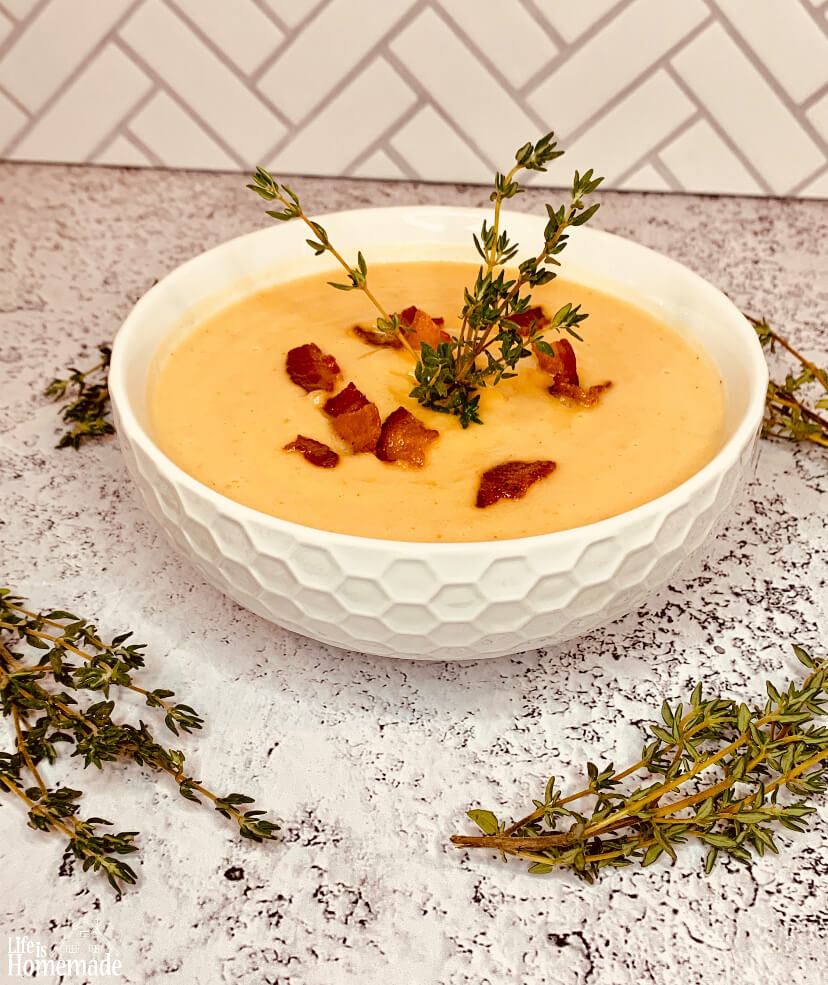 Instant pot butternut squash and cauliflower soup is perfect as a little thanksgiving starter! I hope you give it a try and find it as amazing as I do!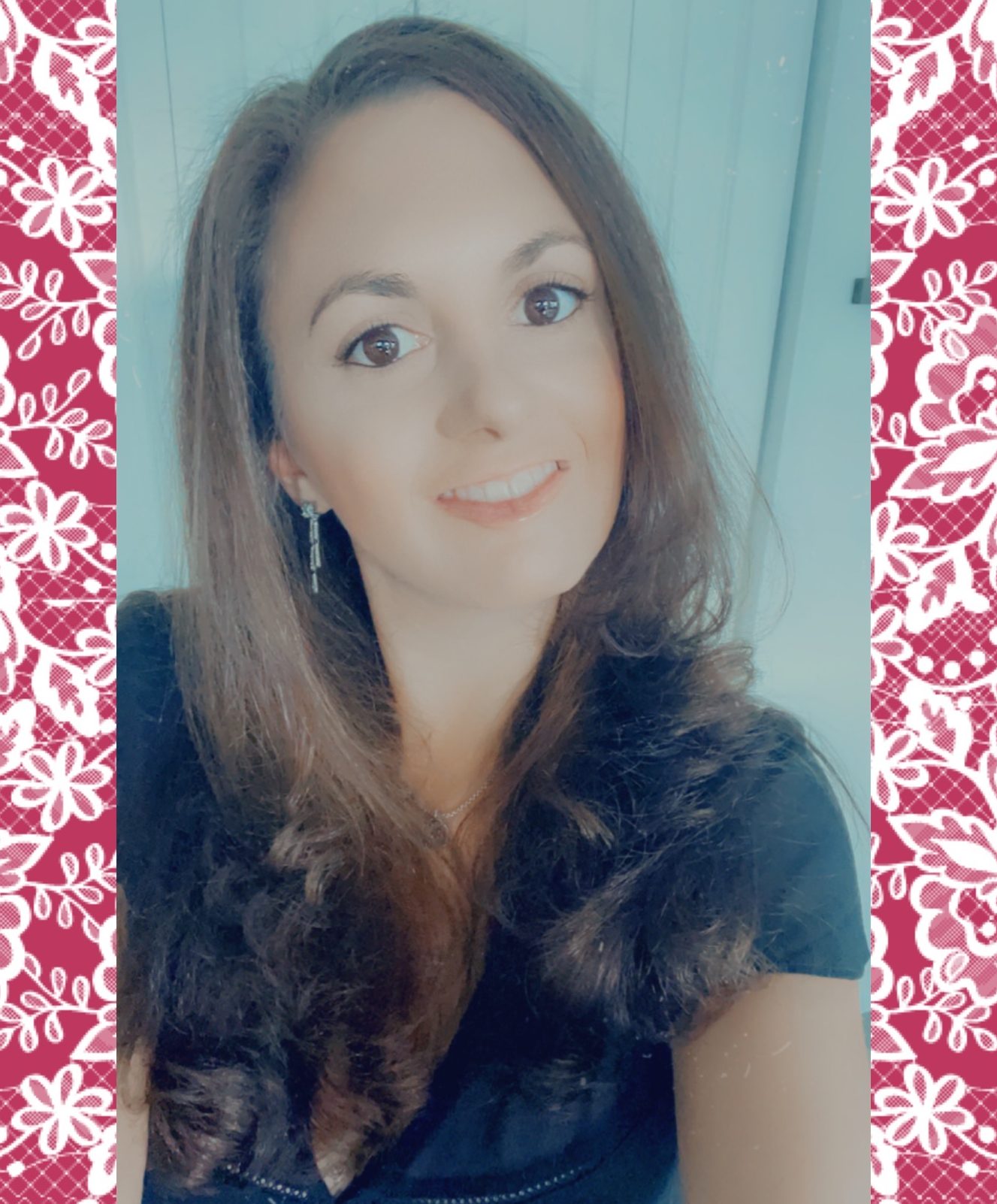 Hey there! I'm the owner & author of Life Is Homemade (the blog), as well as Mad About Madeleines. I hope you enjoyed some of the delicious recipes, how-to's, DIYs, & product reviews I blogged about. Thank you for your previous support I hope you stick around on my new journey with Mad About Madeleines.