A classic thumbprint cookie turned into a Christmas favorite, gingerbread!
Jump to Recipe
This post contains affiliate links. That means if you click on any links, sales made through such links will reward me with a small commission – at no extra cost to you. I only promote companies or products I personally use or believe in.
---
The Christmas season is definitely upon us! Do you know what that means? A lot of cookie recipes are going around! Today I wanted to share one of my favorites I have been making for years gingerbread thumbprint cookies!
Gingerbread is definitely an iconic Christmas flavor, obviously it is my favorite since I have Homemade Gingerbread Syrup every morning in my coffee!. When I was a kid we used to get our gingerbread men from this wonderful local place called Delicious Orchards in Colts Neck NJ! Their gingerbread was one of my absolute favorites, they had the perfect balance of chewy inside with a crunchy exterior and a delicious sweet and spicy flavor, they were the best I didn't even need icing!
As grew up and learned how to bake, gingerbread cookies were definitely on my list for mastering. I make gingerbread every year but living in south Florida I need to find a cool dry day to make them, in south Florida that's easier said than done. This recipe isn't a typical gingerbread man recipe though. Since I noticed gingerbread men aren't easy in the heat I came to find myself looking for a different kind of gingerbread cookie to add to my Christmas cookie list. That is where Gingerbread Thumbprint Cookies come in!
---
Is this your recipe?
No, I found White Chocolate Gingerbread Thumbprint Cookies years ago from another blogger Mom vs The Boys. Her recipe was so good I wanted to share it with you. I absolutely love her gingerbread thumbprint cookies for many reasons, ultimately being they are super easy. If you don't have the time or maybe the patience to roll out a bunch of men then this right here is the best of both worlds. No rolling out and cutting dough, just roll dough balls, roll in sugar if desired, and bake!
---
Did you change anything from her recipe?
Yes, one very small change. I tried hers with the white chocolate in the centers but I didn't love it, I felt the white chocolate was a bit out of place once it hardened in the middle of the cookie. I usually love white chocolate, but it just didn't work for the texture of the cookie to me. I prefer to use Wilton's cookie icing. Sometimes I will skip the icing and sugar on the outside for some of them but only if I want a more basic gingerbread cookie. For my Christmas cookie boxes/trays I make for the season I always add the icing.
---
Can gingerbread thumbprint cookies be decorated?
A little bit, I use the Wilton icing, and before it sets I add red and green sanding sugar to the tops of each cookie, this way they are festive looking!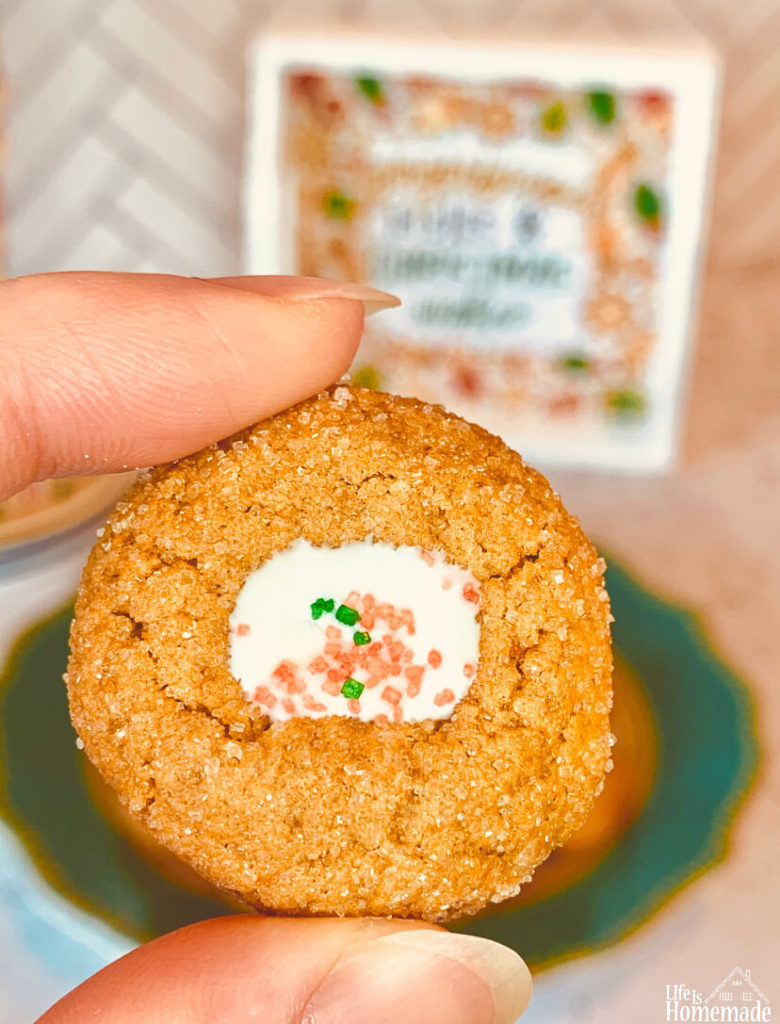 ---
Are the gingerbread thumbprint cookies gluten-free?
No, but you can certainly make them gluten-free by using bob red mills gluten-free all-purpose baking flour on a 1 to 1 ratio.
---
Can they be made vegan?
I haven't tried it but I don't see why not. I haven't tried it but I don't see why not. For the butter swap it out for earth balance butter or another vegan butter. Then replace the egg for a one flax egg, you would need 1 tbsp ground flax meal and 3 tbsp water, let sit in your fridge for 15 minutes to set up and thicken prior to using in the gingerbread thumbprints. I have scoured the internet for a vegan alternative to Wilton cookie icing and no luck but you can make your own from scratch with this vegan royal icing recipe, from Cooking On Caffeine.
---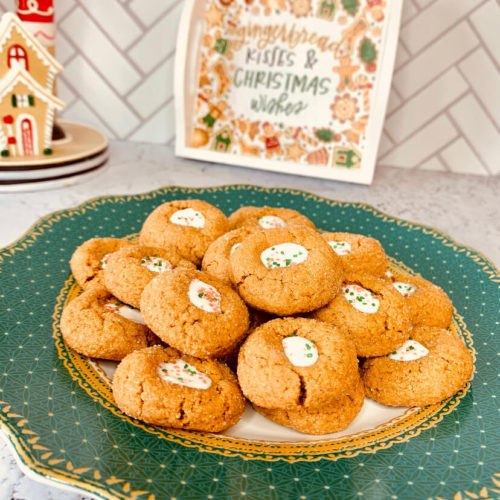 Gingerbread Thumbprint Cookies
A classic thumbprint cookie turned into a Christmas favorite, gingerbread!
Equipment
Stand Mixer

Parchment paper

Mini Cookie Scoop
Ingredients
3

cups

all-purpose flour

or bobs red mill gluten-free baking flour

2

tsp

ground ginger

1

tsp

ground cinnamon

1

tsp

baking soda

1/4

tsp

ground nutmeg

1/2

tsp

salt

3/4

cup

unsalted butter softened

or vegan butter

3/4

cup

packed brown sugar

I use half dark, half light

1/2

cup

molasses

1

egg

or vegan egg, see notes

1

tsp

vanilla extract

1/4

cup

granulated sugar

optional, for rolling dough balls in

Wilton cookie icing

optional, or make your own
Instructions
Mix flour, ginger, cinnamon, baking soda, nutmeg, and salt in a large bowl.

In a stand mixer, beat butter and brown sugar on medium speed until light and fluffy. Add Molasses, egg and vanilla, beat well to mix.

Gradually add dry mixture to wet ingredients, beating on low speed until well mixed.

Wrap dough in plastic wrap and refrigerate for 4 hours or overnight.

Preheat oven to 350 F. and line cookie sheets with parchment paper. Shape dough into mini balls with a cookie scoop, should be a little over a tsp size then roll in granulated sugar to lightly coat.

Place balls 2 inches apart on the prepared baking sheet. Bake 8 to 10 minutes or until the edges of cookies just begin to brown.

If you plan on adding icing to the center, immediately make an indent in the tops of the cookies, I like to use the handle of my wooden spoon for this.

Once slightly cooled add icing and sanding sugar to decorate.
Notes
I like to use half butter half margarine in my cakes and most cookies unless it is a roll-out cookie then stick with butter only! How to make a flax egg, 1 tbsp ground flax meal, and 3 tbsp water, let sit in your fridge for 15 minutes to set up and thicken. I like poppable sized cookies, if you like larger cookies then you will not end up with 100 cookies. If you don't like cookies too sweet, skip the added 1/4 cup granulated sugar for rolling. I like Wiltons cookie icing but if you have a homemade version or another brand feel free to use that, or skip icing all together. Store in an alright container for 5 days.
Comment below, what is your favorite holiday cookie?
Hey there! I'm the owner and author of Life Is Homemade. I'll be sharing some delicious recipes, how to's, DIY's, and reviews of products I love! Thank you for coming and I hope you stick around on this blogging journey with me.