You will love these super simple quick once baked biscotti! They have a light soft biscuit-like texture and a little sweetness that makes them perfect for any time of day!
Jump to Recipe
This post contains affiliate links. That means if you click on any links, sales made through such links will reward me with a small commission – at no extra cost to you. I only promote companies or products I personally use or believe in.
---
I know that biscotti means "twice baked"… but these once baked biscotti are awesome. I have had my fair share of regular twice-baked biscotti and although they are good I am actually not the biggest fan. Sometimes I feel like I can break a tooth on them. I know they are supposed to be hard and crumbly but I prefer a chewy cookie over a break your teeth kind of cookie. Don't get me wrong occasionally I like a crunchy cookie too but normal biscotti just doesn't do it for me. It really has to be out of this world for me to want it and they have to be homemade.
A little back story I am 100 percent American Italian and I really wanted to do a recipe in honor of being Italian. I stumbled upon this once baked biscotti recipe back in august right before hurricane Dorian. If you aren't familiar with that hurricane it's the one that was supposed to hit Florida and went straight to destroying parts of the Bahamas. Anyway so this biscotti recipe from The Merchant Baker popped up when I was looking for some other Italian cookie and I thought I'd give it a whirl!
So obviously there is a hurricane about to hit and what is my first thought? I have to bake!! My husband was actually back in NJ visiting his family and I was a bit scared because the media was hyping this storm for Florida so bad, well I fled to my parents. Who wants to be alone during a hurricane? I'm pretty sure I tested the original recipe at home and although it was good I felt it was a little bit of an odd texture for me, the taste was definitely good but I didn't care for the texture.
After I tested the original recipe out I packed up my things I grabbed the once baked biscotti cookies and kept eating them to try to see what I could do differently and below are my adaptations. Since I was at my parents they were my Ginny pigs and we couldn't be happier with the outcome. The results were amazing!
---
What did I change?
The original once baked biscotti recipe had one more egg only butter no margarine, no salt but her butter was salted and less sugar in the cookie with a vanilla glaze on top and no almond extract. I chose to skip the glaze and add a little extra sugar to compensate for the glaze and these are so good you're going to want to eat them for breakfast, snacks, and dessert!
The original recipe also called for you to make knots or braids she did mention you can do mounds so I decided to simplify and just make the mounds. My recipe has two different yields because it depends on your scooper. If you choose to use a cookie scoop you should get either 72 bite-size biscotti or 58 normal-sized biscotti. Depending on the size also depends on the oven time and please do not over bake these babies!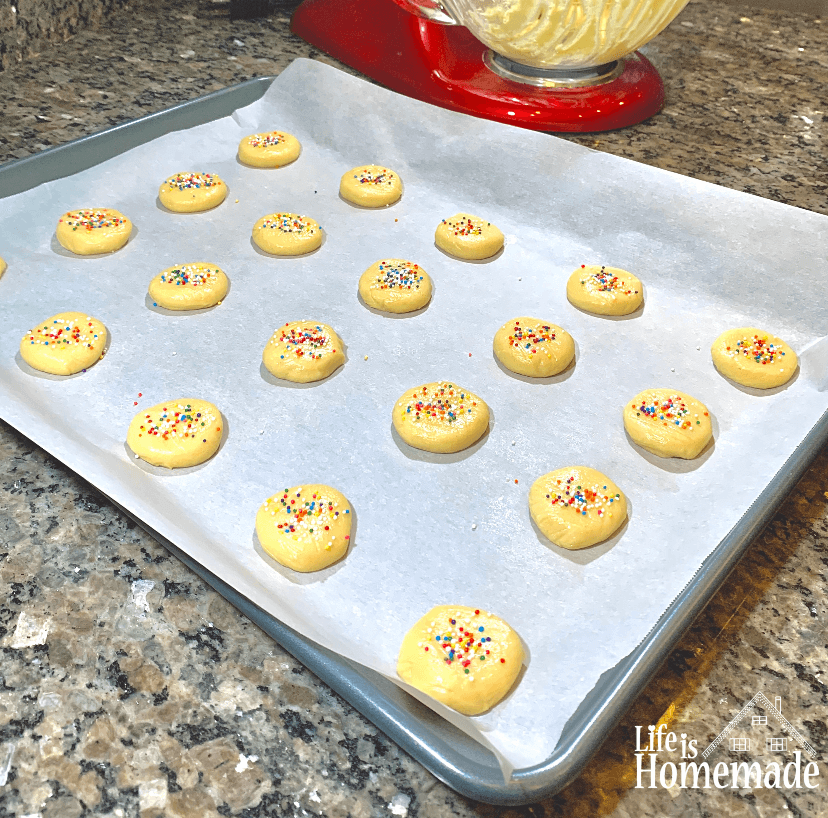 Once Baked Biscotti Recipe
You will love these super simple quick once baked biscotti! They have a light soft biscuit-like texture and a little sweetness that makes them perfect for any time of day!
Equipment
Parchment paper

Two Baking Sheets

Stand Mixer

Cookie scoop
Ingredients
1

Stick

Unsalted Butter

1/2

Stick

Margarine

1/2

Cup

Confectionary Sugar

2/3

Cup

Granulated Sugar

2

Eggs

3

Cups

All- Purpouse Flour

1/4

Tsp

Salt

3/4

Tsp

Baking Powder

1/4

Tsp

Vanilla Extract

1/4

Tsp

Almond Extract

Colorful Nonpareils

optional
Instructions
Preheat oven to 350 degrees F. line two baking sheets with parchment paper.

In a mixing bowl of a stand mixer, beat butter until softened or for about 30 seconds.To the butter/margarine add sugars and then beat until combined.

 Next add in eggs, vanilla, and almond extracts, then beat until incorporated.

Finally add in the flour, salt baking powder, now mix on low until combined.

Roll into balls and smoosh down slightly.

If using add Nonpareils to tops of dough and lightly press down ensuring they won't come off after baking.

Bake for 8-12 minutes until cookie is set and firm but not browning around the edges. The bottoms will be only lightly browned when done, DO NOT over bake or the texture won't be right.

Cool for a couple of minutes on the cookie sheet, then remove, set on counter or wire rack to cool.
Notes
Yields about 72 bite size cookies or 58 normal size cookies
DO NOT over bake!
Store in an alright container for one week (if they last that long) or freeze for 3 months.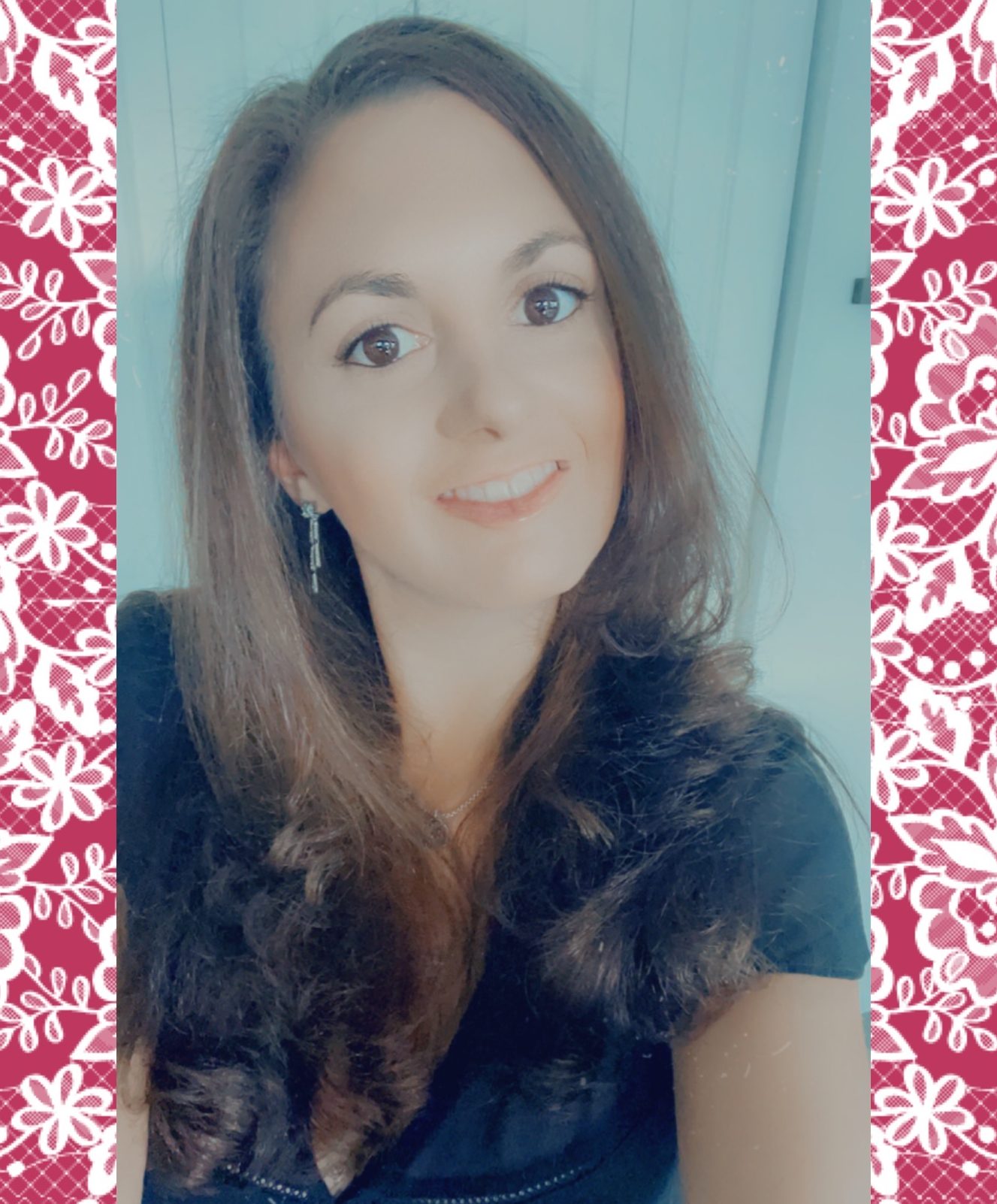 Hey there! I'm the owner & author of Life Is Homemade (the blog), as well as Mad About Madeleines. I hope you enjoyed some of the delicious recipes, how-to's, DIYs, & product reviews I blogged about. Thank you for your previous support I hope you stick around on my new journey with Mad About Madeleines.